Ann Arbor, Mi. (November 20th, 2023) – Cleaning your garbage disposal is important to eliminate odors and prevent buildup of food debris. In time, the "stuff" you put down the drains will begin to build up and put additional strain on your disposal. Continuously cleaning can help prolong the life of the disposal as well as keep the disposal from smelling like a rotten vegetable or worse. Here's a step-by-step guide on how to clean your garbage disposal: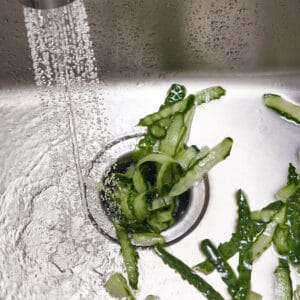 Recommended items needed:
Ice Cubes
Rock Salt or Vinegar
Baking Soda
Lemon or Citrus Peel
Dish Soap
Old Toothbrush or Bottle Brush
Rubber Gloves (optional)
Steps:
Turn off the Power – Before starting the cleaning process, make sure the garbage disposal is turned off. For added safety, you may want to unplug it or turn off the circut breaker that powers it.
Flush with Cold Water – Run cold water down the disposal for about 30 seconds to help flush out any loose debris.
Use Ice Cubes and Rock Salt (or Vinegar) – Put a handful of ice cubes and a cup of rock salt (or substitute with vinegar) into the disposal. Turn on the  disposal and run cold water while the ice and salt grind together. This helps to clean the blades and remove debris.
Backing Soda and Vinegar – Pour about half a cup of baking soda into the disposal, followed by a cup of vinegar. Let the mixture sit for a few minutes to fizz and break down any remaining debris. Then, run cold water while turning on the disposal to flush away the mixture.
Clean the Rubber Flaps – Lift the rubber flaps inside the disposal (if your unit has them) and clean any trapped debris using an old toothbrush or bottle brush.
Freshen with Citrus – Cut a lemon or citrus fruit into small pieces. Drop the pieces into the disposal and run it with cold water. The citrus helps neutralize odors and leaves a fresh scent.
Use Dish Soap – Squirt a small amount of dish soap into the disposal and run cold water. This helps to clean the disposal and leaves a pleasant scent.
Rinse with Cold Water – Run cold water for another 30 seconds to ensure all the cleaning agents are flushed out.
Regular Maintenance – To prevent future odors and buildup, consider running ice cubes and citrus peels through the disposal regularly.
Check for Persistent Odors – If persistent odors remain, you can create a mixture of equal parts water and vinegar, freeze it into ice cubes, and grind those in the disposal. This can help eliminate stubborn smells.
Remember to follow the manufacturer's guidelines for maintenance and cleaning in your specific garbage disposal unit. If you encounter any issues or if the disposal is not working correctly, it's advisable to contact your local Z PLUMBERZ for assistance.
In addition to cleaning, maintaining your garbage disposal is important as well as ensure it works efficiently and lasts longer. Here are some additional tips to help you maintain your garbage disposal:
Use Cold Water – Always run cold water while using the garbage disposal and for a short time afterward. Cold water helps solidify any grease or oils so that they can be chopped up by the disposal.
Run the Disposal Regularly – Even if you don't have food waste to dispose of, it's a good idea to run the disposal regularly to prevent rust and corrosion. This also helps keep the parts moving and prevents them from seizing up. Especially following a load of dish washing.
Avoid Hard Items – Do not put hard items, like bones, fruit pits, or large chunks of hard vegetables down the disposal. These can damage the blades and motor.
Avoid Fibrous Materials – Fibrous materials, like celery, corn husk, and onion skins, can get tangled in the disposal's blades and cause it to jam. Avoid putting these items down the disposal.
Avoid Starchy Foods – Starchy foods, like pasta and rice, can expand in water and contribute to clogs. Use caution when disposing of these items and run plenty of water while the disposal is in use.
No Non-Food Items – Only put food items down the disposal. Avoid putting items like paper, plastic, or metal down the disposal, as they can damage the unit.
Clean Regularly – To prevent odors, clean your disposal regularly. You can do this by grinding ice cubes to sharpen the blades, and then follow with a mixture of baking soda and vinegar or citrus peel to freshen up the disposal.
Use Citrus – Grinding citrus peels can help freshen up the disposal and leave a pleasant scent. You can also use a mixture of ice cubes and citrus peels to clean and deodorize the disposal.
Avoid Harsh Chemicals – Avoid using harsh chemicals like bleach or drain cleaners in your garbage disposal. These can damage the unit and harm the environment.
Check for Leaks – Periodically check for leaks around the disposal. If you notice any leaks, address them promptly to prevent water damage.
Read the Manual – Always refer to the manufacturer's manual for specific guidelines and recommendations for your particular garbage disposal model.
By following these tips, you can keep your garbage disposal in good working condition and minimize the risk of clogs and other issues.
Finally, if you are a household who loves to cook, upgrading your garbage disposal may be one of the most cost effective improvements you can make in your kitchen. Most plumbers will carry the most cost effective unit in their trucks, and because of this, you may not get what may make the most sense for you when it's time to have yours replaced. This also goes for new construction built homes. The most common garbage disposals are either 1/3 or 1/2 horsepower disposals that retail between $100-$140 and will come with a 1-3 year warranties. For an additional $100-$200, you can get a 3/4 or 1 horsepower disposal with stainless steel components with 6-7 year warranties and much quieter operations. And if you really want to spend a little more, like another $50-$100, you can get the best of the best with extremely quiet operations and up to a 10 year warranty for under $500. In total, there may be up to 10 different options ranging from $100-$500 for disposal so be sure to take your time and check out what option you feel would be best for you. Don't let your plumbers only give you a single option because that is what they have on their service vehicles.
Click here to find a Z PLUMBERZ location near you. Click here for franchise opportunities.
About Z PLUMBERZ
Z PLUMBERZ is a full-service, fast-growing plumbing franchise. Z PLUMBERZ provides expert repairs, installation and maintenance for emergencies or long-term, preventative safeguarding. From blockages, sewer lines, appliances, infrastructure and more, Z PLUMBERZ's Call Center Support and experienced plumbers work 24/7 to ensure long-lasting and reliable plumbing, drains and sewer solutions in residential, commercial and industrial settings. Z PLUMBERZ is part of BELFOR Franchise Group, a division of BELFOR Property Restoration, the world's largest property restoration company. For more information about Z PLUMBERZ services, please visit www.zplumberz.com. For more information about franchising with Z PLUMBERZ, visit https://zplumberzfranchise.com/.