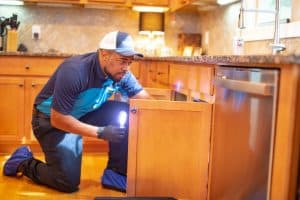 Raking leaves, checking the furnace, cleaning gutters – fall is a beautiful time of year, but sure brings a lot of chores with it to prepare for the winter months. Let Z PLUMBERZ take one of those items off your list for one of the most important tasks, preparing pipes for the cold.
Typically, pipes burst after temperatures dip below 20 degrees for about six hours straight. This of course depends on your home and piping system, but it's generally used as a rule of thumb for when to start getting serious about protecting your pipes from freezing and bursting.
Some tried and true tips:
Keep your water faucets running on low if it's extremely cold outside, as actively moving water through the system prevents water from sitting still and freezing in the pipe.
Keep your home above at least 32 degrees, especially where water lines are located. You can also leave cabinet doors where piping is located open so heat can more easily enter.
Disconnect the hose from the outside faucet, so water doesn't drain out of the hose and freeze.
And when all else fails, call an expert plumber at Z PLUMBERZ, who can help locate potential problem areas for pipes and help prevent them from bursting.
Despite the arrival of winter and cold temperatures each and every year, homeowners still fall victim to burst and broken pipes. And it's not cheap to fix, with some plumbing companies charging hundreds of dollars for labor costs, as well as materials to repair the issue. And, that doesn't account for water damage that may be associated with burst pipes. According to HomeAdvisor's True Cost Guide, homeowners pay an average of $4,200 to repair foundation issues. In worst-case scenarios, major repairs can run up to $10,000 or more.
Z PLUMBERZ, fortunately, is a full-service plumbing company that offers preventative and long-term solutions, for all your plumbing, drain and sewer needs. We're also committed to our customers by providing extensive knowledge, education and ongoing training support.
And, like anything in life, even the best preparations can result in disaster. In that case, Z PLUMBERZ is there. Our trained professionals response to emergency situations with immediate action to repair burst or frozen pipes to avoid costly water damage.
"Z PLUMBERZ is a full-service emergency plumbing company," says CEO Matthew O'Rourke. "At Z PLUMBERZ, we know there are few things more stressful than a plumbing emergency. Luckily, you can count on us to fix broken pipes, clogged toilets, flooded basements, and much more. We're here to solve any plumbing issue—big or small, every day."