Z PLUMBERZ shares tips ahead of game day celebrations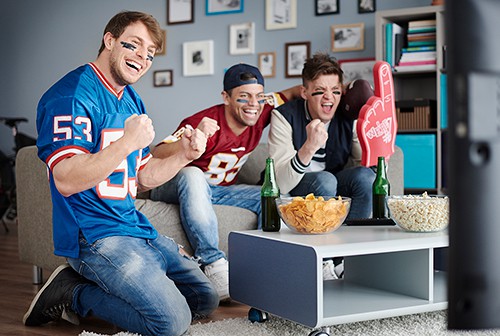 ANN ARBOR, Mich. (February 4, 2022) – As millions of fans across the world prepare for football's most anticipated game of the year, many homeowners underestimate the challenge that a Super Bowl gathering can have on their home plumbing system. Similar to the day after Thanksgiving – referred to as Brown Friday in the plumbing industry – there is an uptick in plumbing-related issues during the big game due to the 350 million gallons of water that is flushed through the household plumbing systems of the estimated 90 million fans that tune into the game, according to Scott Tissue. This is equivalent to seven minutes of water flowing over Niagara Falls.
Because this increase in use can cause a strain on the sewage system, Z PLUMBERZ, a full-service and fast-growing residential and commercial plumbing franchise, has tips to help avoid any plumbing penalties during the big game.
(Don't) double down – If you're planning to host a Super Bowl gathering this year, you may want to consider switching to thinner toilet paper for the day. 1-ply toilet paper can move more easily through your home's pipes and with bigger crowds, this can help lighten the load on your toilets.
Keep it on the field – Make sure all food scraps, especially chicken bones, grease and pasta, end up in the garbage instead of down the drain. These foods can break the blades in your disposal or create unwanted clogs in your drain.
Smells like team spirit– Although it's fun to show support for your team in all areas of your home, make sure you are mindful of the decorations in your bathrooms and kitchen. It's easy for small things to get knocked over and end up clogging your pipes.
Preparation for the win – In case of an unexpected emergency, be sure to locate your water shut off valve and have a toilet plunger or other drain tools handy. If you're planning to have guests over, make sure that the valve is clearly labeled, and the tools are easily accessible in all bathrooms.
"With everything going on in preparation of and during the game, it can be easy to overlook small things that can end up causing major plumbing issues," said Matt O'Rourke, President of Z PLUMBERZ. "By sharing these tips, we hope that homeowners can take the steps necessary to avoid these common plumbing issues and keep your system running smoothly. If any emergencies should come up, our team of experts is available 24/7 for anything you may need."
Click here to find a Z PLUMBERZ location near you. Click here for franchise opportunities.
About Z PLUMBERZ
Z PLUMBERZ is a full-service, fast-growing plumbing franchise. Z PLUMBERZ provides expert repairs, installation and maintenance for emergencies or long-term, preventative safeguarding. From blockages, sewer lines, appliances, infrastructure and more, Z PLUMBERZ's Call Center Support and experienced plumbers work 24/7 to ensure long-lasting and reliable plumbing, drains and sewer solutions in residential, commercial and industrial settings. Z PLUMBERZ is part of BELFOR Franchise Group, a division of BELFOR Property Restoration, the world's largest property restoration company. For more information about Z PLUMBERZ services, please visit www.zplumberz.com. For more information about franchising with Z PLUMBERZ, visit https://zplumberzfranchise.com/.