Local plumbing, sewer and drainage experts to attend Delaware County Fair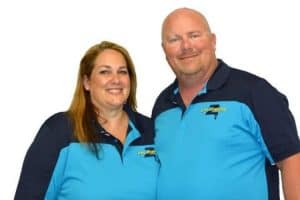 MUNCIE, IN (July 20, 2021) – Z PLUMBERZ, a full-service and fast-growing commercial and residential plumbing franchise, proudly recognizes a successful first year for its Indiana location, Z PLUMBERZ of Muncie, which recently expanded with the purchase of two additional territories.
Z PLUMBERZ of Muncie is owned and operated by the husband-and-wife team of Joe and Beth Sparks, 25+ year plumbing industry veterans who joined the Z PLUMBERZ franchise in June 2020 following the franchise's launch. To mark their first year of operations under the Z PLUMBERZ name, the company will attend the Delaware County Fair this week. Their fairgrounds setup in Heartland Hall will include a raffle for a new toilet and full installation services, as well as other family-friendly giveaways and activities such as face painting.
"We joined the Z PLUMBERZ team to help take our business to the next level, and we've been fortunate to help our neighbors with maintenance and emergency plumbing services since then," said Beth Sparks. "We look forward to seeing many of those neighbors this week at the County Fair, and hope to be recognized as the go-to service providers when plumbing issues arise in their homes and businesses."
The professionals at Z PLUMBERZ of Muncie offer maintenance for everyday disasters such as flooded basements and malfunctioning hot water systems as well as emergency and preventive repairs and installations for the following plumbing systems: water heaters, toilets, faucets, sump pumps, dishwashers, clothes washers, drains, showers, bathtubs, and more.
"As residents of the Muncie area for more than 40 years, Beth and Joe are knowledgeable and reliable plumbing experts – they are also specialists in top-notch customer service. Their business is the ultimate example of a trustworthy, family-run business, and we're proud to have them in the Z PLUMBERZ network," said Matt O'Rourke, president of Z PLUMBERZ.
Serving clients around Muncie, Anderson, Pendleton, Nobelsville, Westfield, Carmel, Fishers, and northern Indianapolis, the Sparks' business is located at 4815 W County Road 600 S, Muncie, IN 47302.
For more information or to contact Z PLUMBERZ of Muncie, please visit www.zplumberz.com/muncie/ or call 765-759-6920.